There's a book I have read more than any other in the last five years. I read it only at night, out loud, and to a very attentive audience. It features a rare, dangerous animal and a young girl and her mother who are exposed to its voracious appetites as it eats and drinks everything in their house. This book has never been out of print for almost 50 years. Judith Kerr's The Tiger Who Came To Tea is my two-year-old son's favourite book, just as it was his older brother's, and it's a must-have on almost every night's bedtime reading list. The book has something special to it that makes the story resistant to becoming stale, and I have to admit I never tire of laying on the mock outrage when the tiger drinks all the daddy's beer.
The Tiger Who Came To Tea was Judith Kerr's first book and evolved out of a story she told her daughter before bed. Her children were born in England but Kerr herself was born in Germany. When she was nine years old her family fled Berlin in 1933: the Nazis had published a list a newspaper of people who would be shot as soon as they came to power and Judith's father Alfred – a highly influential satirical writer –was number two on that list. After spending time in Switzerland and France, the family settled in England in 1936. Judith recorded these experiences as a refugee in the children's novel When Hitler Stole Pink Rabbit, first published in 1971.
Many more books followed, including the highly-popular Mog series. Her most recent book is Mr Cleghorn's Seal, published in 2015. She was married to screenwriter Nigel Kneale for more than half a century until his death in 2006.
Today, Judith Kerr turns 94. She still writes and illustrates, in an all-white room at the top of her house, starting around 10.30 and working as long as the light is good. She is fond of whisky and Martini Rosso.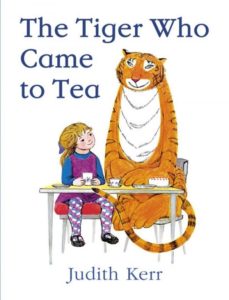 The word 'amazing' is so overused that it is virtually worn-out, but someone like Judith Kerr puts all the vitality and wonder right back into it. Happy birthday, Mrs Kerr, tonight I'll be raising a single malt in your honour.